A Sneak Peek at the Upcoming OpenBSD 5.6 Release
In exactly one month from now, OpenBSD 5.6 will be released on November 1, 2014 – like clockwork as always. But, you don't have to wait until November 1 if you want it earlier, because pre-orders are now up at the brand new OpenBSD store!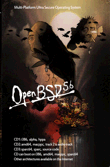 OpenBSD 5.6 is of course the first OpenBSD release with LibreSSL, the now-famous fork of the OpenSSL library. But while LibreSSL is an important milestone for OpenBSD, there are many other things in the OpenBSD 5.6 release that warrant attention as well.
The developers are still busy preparing the OpenBSD 5.6 release notes. Meanwhile, if you're curious about what's new in OpenBSD 5.6, you can get a sneak peek from various places on the Internet if you know where to look! I would like to highlight three places in particular.
plus56.html
The first place to look at is the big list of changes between OpenBSD 5.5 and 5.6 that has been painstakingly compiled by Brett Mahar (brett@) throughout the development cycle. I think Brett does an amazing job of collating all this information together for every release! I have no idea how he manages to go through every source-changes@ post to produce this list so consistently. :)
Hackathon reports
The second place that you can look at are the hackathon reports written by the developers. Two hackathons were held between OpenBSD 5.5 and 5.6: m2k14 in Marrakech, Morocco (April 17-22, 2014) and g2k14 in Ljubljana, Slovenia (July 8-14, 2014).
The hackathon reports are published on the OpenBSD Journal website. I have listed them here:
m2k14 hackathon reports
g2k14 hackathon reports
As for the g2k14 hackathon reports, thanks to Undeadly editor tbert, they are all listed in a single article on the OpenBSD Journal! Here it is:
Slides and papers
The third place to look at are the slides and papers written by OpenBSD developers. Two notable events that took place between OpenBSD 5.5 and 5.6 are BSDCan 2014 and EuroBSDCon 2014. You can check out OpenBSD-related slides and papers for these events and more at:
http://www.openbsd.org/events.html
http://www.openbsd.org/papers/
As you can see there's a wealth of information out there on what's new in OpenBSD 5.6 that really shows the amazing amount of work that is done for every release.
I would like to end by highlighting this tweet/retweet from Ryan McBride (mcbride@), which I think summarizes the awesomeness of the OpenBSD release process like no other: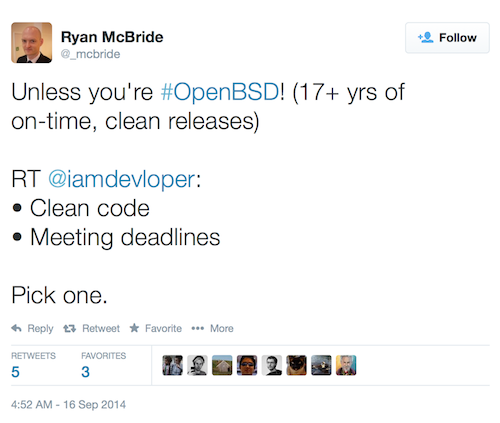 So remember to pre-order OpenBSD 5.6 or donate to OpenBSD to keep this awesome project alive and thriving!